Grammer Büro Koltuk San.Tic. Ltd.
Fahrerlose Transportsysteme der Firma Neumaier im GRAMMER Werk in Zwickau (D)
GRAMMER Seats Focus on Ergonomics and Whole-body Vibrations in the 3rd China International Automobile Seat summit and Exhibition 2021

On the 21st of May, GRAMMER China Commercial Vehicle Seats Suspension Experts Blake Schneider was invited to give a speech on Ergonomics and whole-body vibrations and how they apply in GRAMMER's seats development process at the 3rd annual China International Automobile Seat summit and Exhibition 2021 held in Shanghai.

About the Forum: From May 20th to 21st 2021, the 3rd annual China International Automobile Seat summit and Exhibition was successfully held in longzhimeng Hotel, Shanghai. The forum is organized by Polaris business consulting (Shanghai) Co., Ltd., under the guide of the people's Government of Anting Town, Jiading District, Shanghai, and supported by new media- Yanzhi automotive technology. Under the theme of "seat technology leading the new trend in the future", more than 400 distinguished guests from the automotive seat field, including vehicle manufacturers, seat assembly manufacturers, seat parts manufacturers, seat materials and technology manufacturers, and university research institutions, gathered together, to have deeply and constructively discussion on the current technology hot spots and future development opportunities and trends in the field of automobile seats at domestic and abroad market.
Diversität & Inklusion (D&I) sind wesentliche Bestandteile unserer Unternehmenskultur. Wir haben den Deutschen Diversity Tag am 18. Mai und den Welttag für kulturelle Entwicklung am 21. Mai zum Anlass genommen, um zum Thema "Diversität & Inklusion" zwei digitale Workshops mit Jurate Keblyte (CFO) zu veranstalten. Das interaktive und dynamische Veranstaltungsformat richtete sich an einen internationalen, diversen Teilnehmerkreis. Zudem haben wir ein Video gedreht, indem unsere Vorstände und einige Mitarbeiter:innen von persönlichen Erfahrungen berichten, die sie im Kontext von D&I gemacht haben und beschreiben, wieso ihnen das Thema am Herzen liegt.

#BeProudofWhatMakesUsDiverse #BePartofONEGRAMMER #Diversity #Inclusion #Grammer

Diversity & Inclusion (D&I) are an essential part of our corporate culture. On the occasion of the German Diversity Day on May 18th and the World Day for Cultural Diversity for Dialogue and Development on May 21st we hosted two digital "Diversity & Inclusion" workshops with Jurate Keblyte (CFO). An international and diverse group of employees attended the dynamic and interactive session. Moreover, we made a video, in which our executive board as well as some of our employees shared personal experiences regarding D&I as what D&I means to them.

#BeProudofWhatMakesUsDiverse #BePartofONEGRAMMER #Diversity #Inclusion #Grammer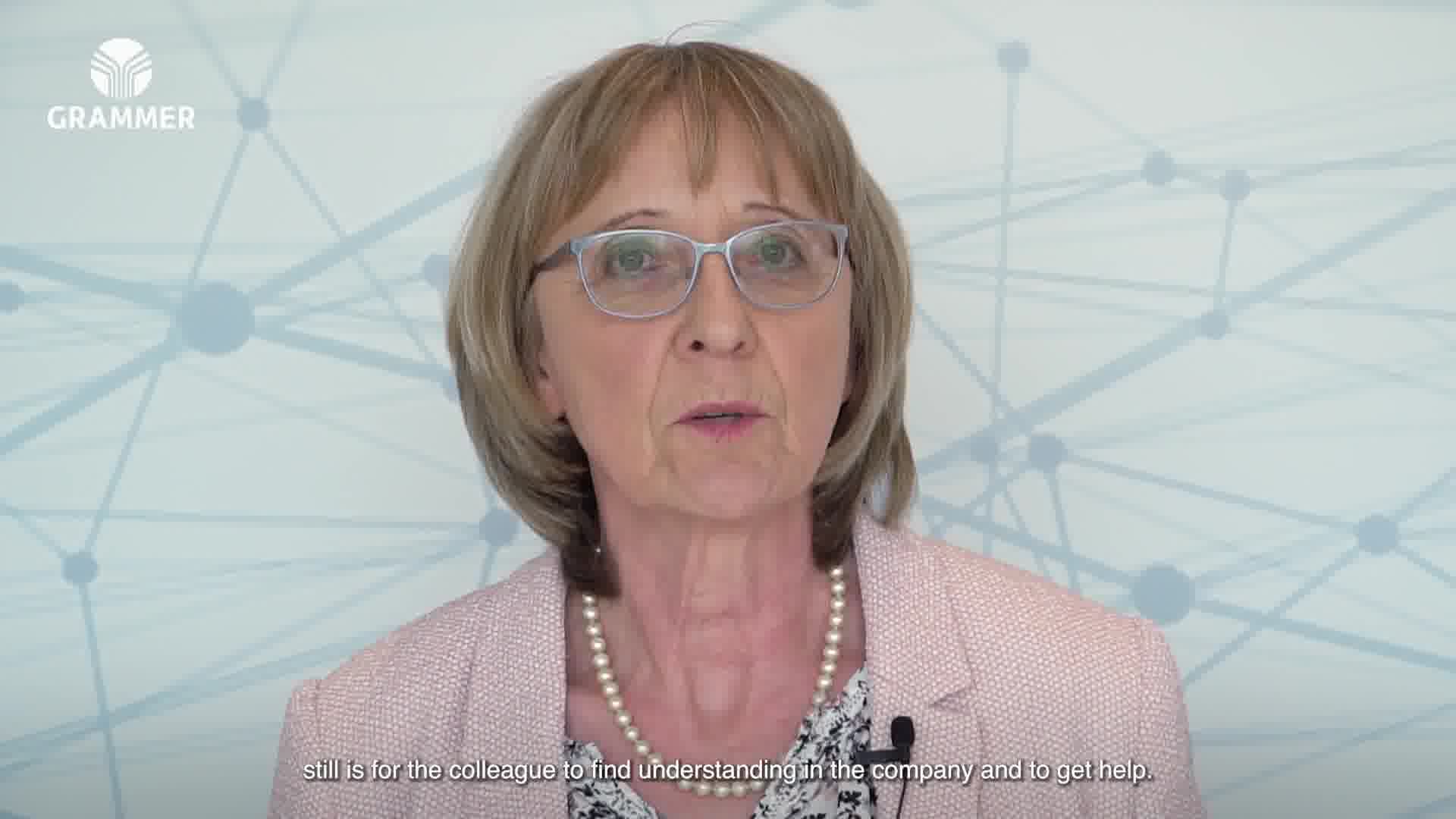 Marketing-Schulprojekt am Gregor-Mendel-Gymnasium in Amberg (D)

Eine Projektarbeit mit einem Unternehmen während des Homeschoolings – das geht? Sogar sehr gut, würden fast 30 Schülerinnen und Schüler der 8. Jahrgangsstufe im Wirtschafts-Zweig des Amberger Gregor-Mendel-Gymnasiums sagen. Im Rahmen einer neuen Praxis-Kooperation von GRAMMER mit der Schule bekamen sie ganz im Sinne von "learning by doing" einen tiefen Einblick ins Aufgabenspektrum einer Marketingabteilung. Und durften anschließend eigene Produktideen aller Art inklusive einem maßgeschneiderten Marketingkonzept entwickeln.

"Uns hat es wirklich begeistert, mit welchem Feuereifer hier gearbeitet wurde", sagt Günter Krämer, SVP Group Marketing, Communication, CSR & SPP bei GRAMMER. "Bei der finalen Präsentationsrunde haben wir sehr viele gute Ideen und Konzepte gesehen. Kurz gesagt: Das ganze Projekt ist eine echte Win-Win-Situation für alle Beteiligten: Wir konnten zeigen, dass es auch in großen Unternehmen Platz für Kreativität gibt – und die Schülerinnen und Schüler haben gelernt, welche spannenden Facetten das Berufsbild bietet." Ein Teilnehmer brachte diese Erfahrung auf den Punkt: "Obwohl mich das Thema Marketing persönlich nie sehr interessiert hat, hat mich das Projekt mit Frau Schatz einfach fasziniert. Ich wusste nicht, dass die Marketingbranche so weitreichend ist und bin positiv überrascht."

Auf Grund der positiven Erfahrungen aller Beteiligten ist angedacht, das Projekt im nächsten Schuljahr zu wiederholen.
Auto Shanghai: Great interest in GRAMMER's smart innovations

With more than 30 high-level executives from OEMs in the automotive industry, numerous customer contacts at the working level and a great deal of interest from the trade media, GRAMMER's appearance at the Auto Shanghai 2021 trade show was a complete success. The presentation focused on products tailored for the Chinese market in interior components and operating systems for the vehicles of tomorrow. Visitors could expect a variety of smart ideas and solutions in the four innovation fields of the German company: Living Space, Functional Upgrade, Premium Comfort and Sustainability.

Movie: https://cloud.wortwerkstatt.de/index.php/s/3ct6j2gb5ETZqF7

#autoshanghai2021 #autoshanghai #shanghai #autoshow #china #automotiveinterior #carinterior
Congratulations to our colleagues in Delphos (US) for a successful quality assessment from our customer Hyster-Yale.

The team reached a phenomenal score of 99%! The Hyster-Yale Supplier Quality Engineer confirmed that there were no major issues found during the virtual assessment.
Grammer Maximo Professional

In this video our distribution partner KATPOL (Poland) shows together with top agrar Polska magazine how an old tractor is pimped with a new Grammer Maximo Professional.

See how the driver can benefit from this comfort upgrade: https://www.youtube.com/watch?v=Nmksvfh5WJcG
The PACCAR Group and DAF awarded GRAMMER as one of the TOP quality suppliers for 2020 in their supply chain. Considering the difficult times at the moment, this is a great success and a confirmation of the importance of GRAMMER to big global players like DAF.

"Congratulation to the GRAMMER TRUCK team and our colleagues in Geel (B), Tachov (CZ) and Haselmühl (D)."
GRAMMER presents innovative solutions in Shanghai

At the leading trade fair for the automotive industry in Asia – Auto Shanghai 2021 – we are presenting numerous innovations for premium vehicle interiors of tomorrow. Right from the start, trade visitors at the GRAMMER stand showed great interest in our inspiring solutions. As one example we are presenting the Sliding Console, a center console for car interiors that is as flexible as comfortable. Another example: high-tech headrests that can be equipped with integrated microphones and loudspeakers as well as noise-cancelling systems.